One of my favourite things to do during the year is going to various events, food festivals across the city and try out new cuisines, shop a bit, or just enjoy the happy vibe all around me. As a baker, it is fantastic to experience other people's creativity and various types of desserts, to set up your own food stall or dessert stall and to spread awareness of your brand.
I have also set up food stalls in my apartment complex, my office campuses, at an elite event, and not too long back at a food festival. By doing all this over the last 8 years, even before I started Oven Bytes, I have gained experience, learned so much, and made mistakes.
So if you are just starting out as a baker or want to expand your business or even meet like-minded people, this is a great way to kick off. Putting up a food stall gives you exposure in terms of customer demands, teaches you how to price your desserts and even what other dessert stalls have put up.
By the end of this blog post, I will try to tell you:
Why set-up a food stall in the first place
How to choose which event to place a stall at
Pricing your desserts
The work that goes behind to put up a successful & profitable stall.
Why Set-Up a Food Stall in the First Place
There are a few reasons why one should put a food stall or dessert stall:
It is a great way to connect to people
Showcase your business. (Read my blog post on setting up a bakery business, here)
You learn about your capabilities, such as baking in bulk, pricing all the food, setting up an attractive stall.
Earn money to expand or get a lot more in a shorter span of time.
Setting Up a Food Stall
In my opinion, the biggest struggles with food stalls are:
Quantity
Pricing, and
Location
Let me share with you what I have learned so far…
The Different Types Of Food Stalls – People vs Spend Amount vs Locality
I am going to broadly classify dessert stalls into four different categories: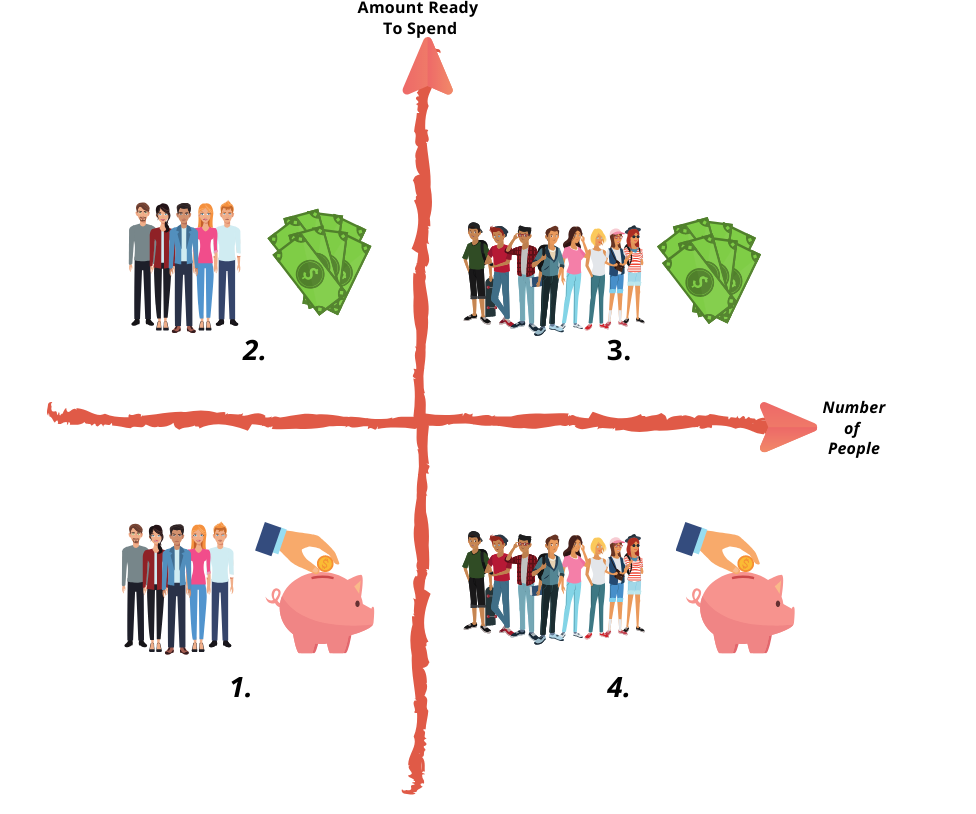 Small footfall – Not eager to spend 
Small footfall – Can spend well
Large footfall – Can spend well
Large footfall – Not eager to spend
Besides this, the locality also plays a factor.
I have put up stalls at: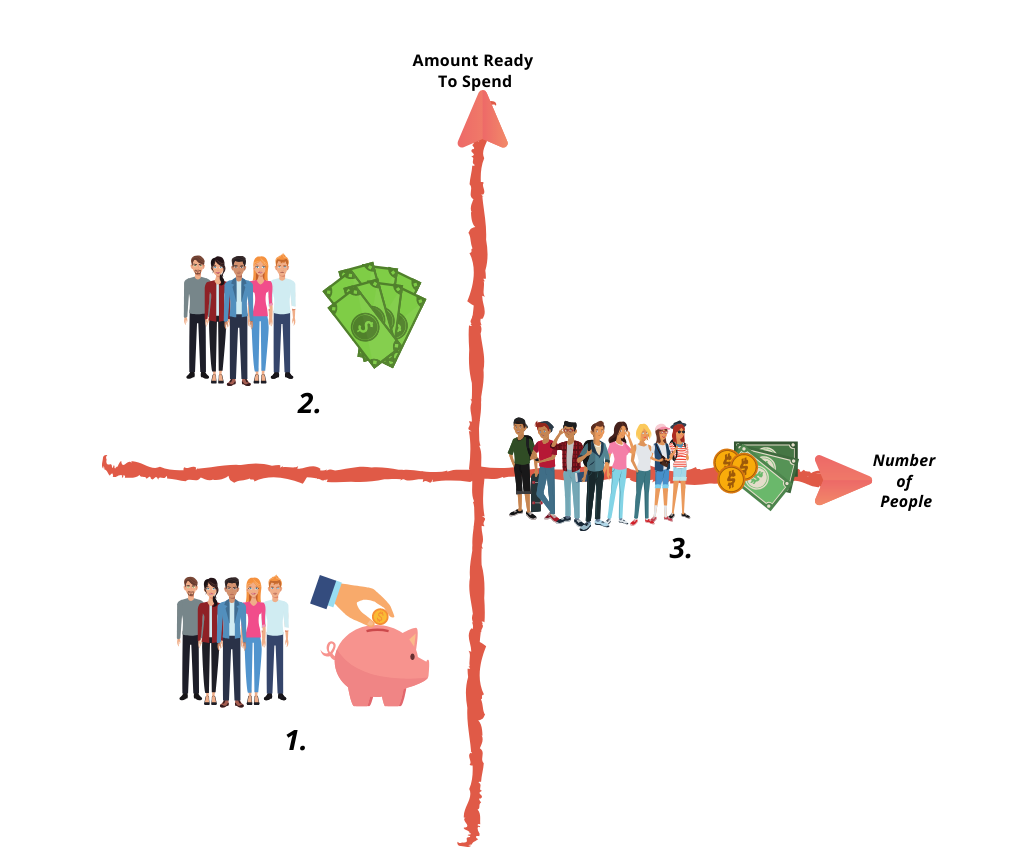 Yearly Diwali Mela at my apartment complex. Here the maximum footfall is approximately 100-150 people and they are not keen on spending. So here, a slice of carrot cake with cream cheese frosting would cost X.
A Mother's Day event in a very posh neighbourhood with a gathering of again 100-150 people with no limit on spending budget. Here, a slice of carrot cake with cream cheese frosting would cost 3X.
At a food festival in Delhi, with a footfall of 30k+ people across 3 days with a modest budget. Here, a slice of carrot cake with cream cheese frosting would cost X or 1.5X.
Nailing Down the Venue
Jumping directly to the point, when setting up a dessert stall, you need to think of a few things in advance. It is really important that you ask the organizers and yourself a few questions before you select the venue.
Fee For Setting Up A Food Stall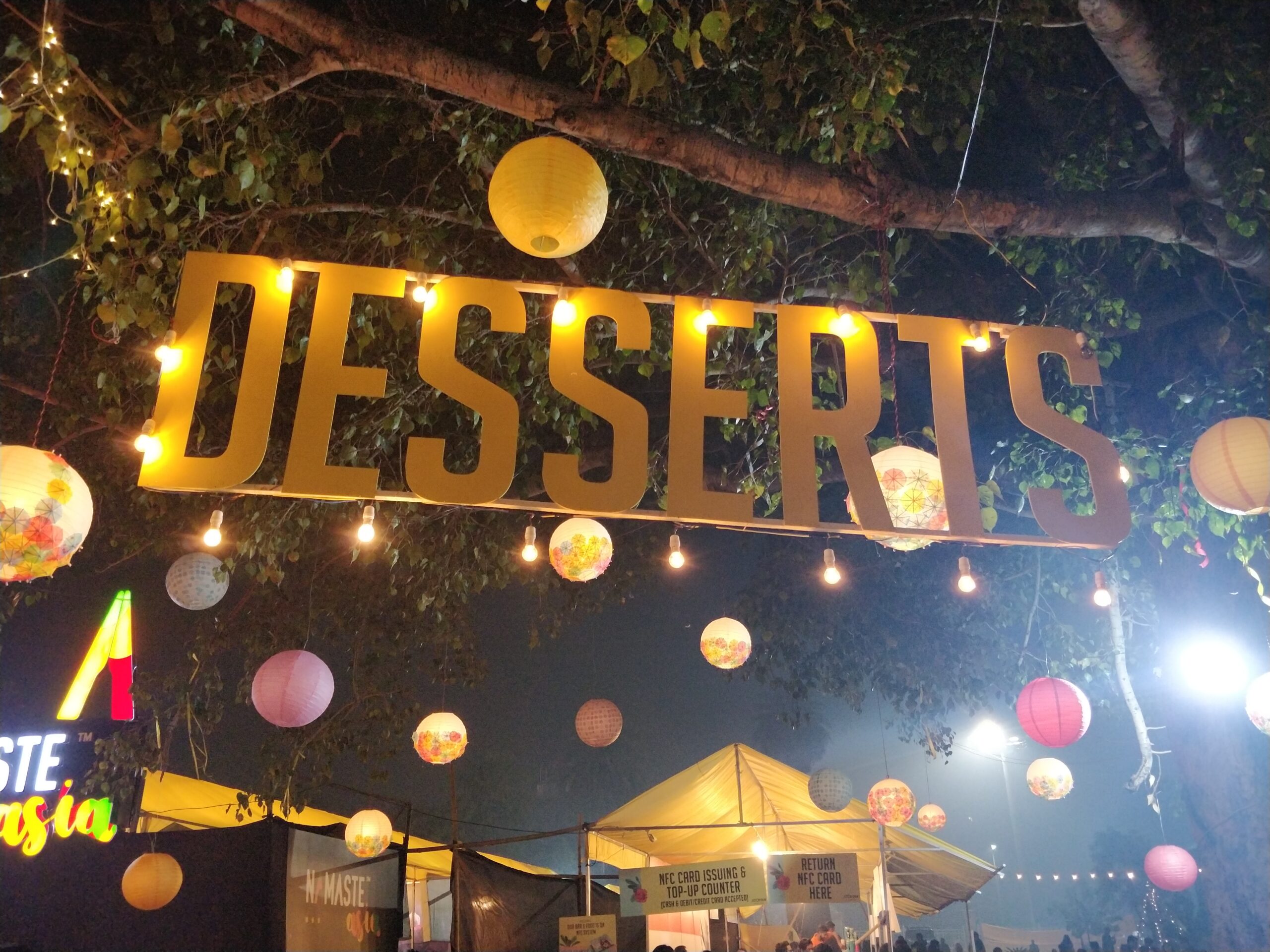 The organizers will give you various fee options based on stall size and location within the venue. Depending on footfall expected, the locality of the venue, and other parameters, the fee is charged.
Do ask the organizers at this point what all is included in the stall fee. How many tables and chairs will they provide, how many power points will be available, will it be set up as a canopy or a cart etc.
The answer to all of these questions will help you in making the right decision.
I will get into more detail about the fee when we discuss the overall pricing involved later on during this post.
Expected Footfall for the Event
Besides what number the organizers' quote, do some of your own research. Check reviews from previous years when the same event was held. Better is if you have been to the event a previous time, you would have the first-hand experience and know the kind of footfall the event has had.
Based on this data can you price your dessert and know how many desserts you would need.
Time & Location of the Event
When is the event happening? Summers, winters, weekends, Friday evenings? This will help finalize your menu. For example, if it's in the summers, you may want to serve up cold desserts but then will also need to have a refrigerator or freezer at the stall with you.
Again if the event is happening indoors or outdoors is crucial for your menu. Cakes with icing might melt due to events in the summers outside. So basically you need to know.
My Competitors or Collaborators
If you are putting up a dessert stall, ask the organizers how many others will there be at the event.
If your purpose to put up a stall is to earn money and get profit, it would be best that many people are not selling the same thing. The fewer the dessert stalls the better. This way customers will have to come to you for something sweet.
But if your purpose is to collaborate, meet like-minded people, you may want to set up a stall that focuses or celebrates desserts for example with money or profit being secondary.
Mandates for Setting up a Stall?
In India for example, it is mandatory now that you have a Food Safety Compliance System (FoSCoS) certification, read more about it here, to be eligible to serve food to customers. Other events may have other requirements as well. So do ask the organizer for all such details.
All the above will help you select a venue. Once you have done that, the next thing to do is, make a plan.
If working full time somewhere else, can I take a few days off to prepare for this event?
Can you cater according to the footfall, if not, then for how many can you?
What will you serve?
What will you price each item for?
Will you earn a profit after spending money on stall fee, raw materials, electricity, packaging, stall decor and other miscellaneous expenses?
I know these are a lot of questions, but let me try to answer a few for you now.
What to Serve at Your Dessert Stall?
When baking for a large audience, it is very important to be smart and practical about your menu. You need to be strategic and plan based on time and resources as well. It is not practical to bake multiple 8-inch cakes with just one 8 inch cake mould. So based on this, I have a few suggestions which might help you plan your menu.
Do's:
Try to serve items which:
Can be baked in bulk eg. brownies, lemon bars
Have a good shelf life eg. cookies (you can even freeze the dough a month in advance and bake near the fest dates)
Require less baking/setting time eg. cakes for Cake in a Jar
Based on a theme of the event eg. Heart-shaped cookies for Mother's Day
Don'ts:
I would suggest avoiding making the following since I have done it and spent just too much time:
Cupcakes – individually baking and icing them takes forever
Cake Pops – no matter how cute they are, these guys are super fiddly when doing in bulk. You might want to make some just in case you have cake scrap from sheet cakes for example.
How to Price Your Desserts?
This is probably the most difficult and crucial part and I will try to make this as simple as possible.
I have two approaches, both of which I have followed over the years, you can choose which one works for you.
Top-Down Approach
Bottom-Up Approach
The steps in both scenarios are the same, you just need to decide which order you want to take.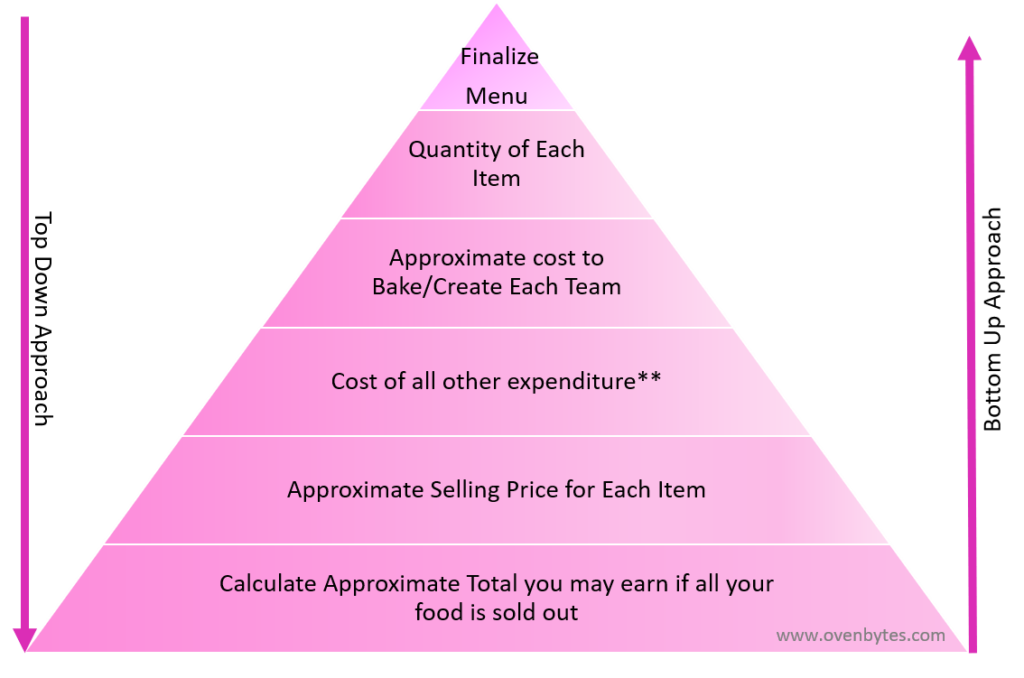 This means all other costs/investments involved from your end besides the raw materials to bake your food. These can be:
Stall Fee
Stall Decor
Electricity Cost
Rental Fee for appliances needed at the stall
Cost of Transportation
Other miscellaneous costs
If you're interested to get a copy of my template that I used to address the above points, email me at contact@ovenbytes.com and I'll send you a copy.
The Real Deal – Setting up the Stall
This is the day you have been planning for. So enjoy it!
Come in early, set up your area. Use banners, balloons, table cloths, and everything else you brought along to decorate your stall. Set your food in trays, under glass cloches, and on cake stands. For the price tags, write the price down on both sides of the paper, so that both you and the customer can see. Have a non-transparent box for the money, if accepting cash. Also, keep change with you.
Now that you are all set, smile, greet your customers and enjoy the experience.
I hope this post helped you. In case you have any queries, do not hesitate to reach out to me at contact@ovenbytes.com!
Stay safe and happy baking!
Love,
Aanchal