Fondant being such a versatile 'thing', it is a great way to decorate cakes. This dough-like material can be shaped into pretty much anything, which is why it is so widely used. Before we get into how we decorate using fondant, I thought why not start off with the basics of fondant. This post will cover the most commonly asked questions people have about fondant. So if you are a beginner in the cake decorating world, this is for you.
1. What is Fondant?
Fondant is primarily a sugar dough. It is made two ways, either with icing sugar or melted marshmallows. Since fondant is 95% sugar, it is extremely sweet and not many people enjoy eating it. Fondant is like Play-Doh. Using food-safe colours, it can be coloured into any colour and shaped into anything. T
Fondant is used for:
Covering entire cakes for a neat and clean finish
Making various customized figurines on theme cakes. For example, the lion and balloon on this cake have been made out of fondant. Fondant is a great way to personalize cakes and hence it is widely used.
2. Home made fondant vs Store bought fondant
One of the most common questions I get asked is how to make handmade fondant? The answer is, I do not make it at home, I buy it from the store. I have tried making fondant at home and it always seems like a big mess and inconvenience to me. Luckily here in India, baking has picked up and fondant is readily available in cake speciality stores, that too in various colours. But if you are in an area where you cannot find the same, you can refer to Gemma Stafford's Bigger Bolder Baking blog post here.
3. My fondant has become really hard, how do I fix it?
Your fondant is hard most probably because you didn't wrap it well or was left out in the open for too long. Try to knead it till it becomes soft. If that is too difficult, place it in the microwave for 10 seconds and then try to knead it again. This has worked for me every time.
4. How long does fondant last?
Fondant usually has an expiry date of 6 months from the date of manufacturing.
5. How to store fondant?
Fondant needs to be stored in an airtight container, and wrapped well in a plastic wrap or cling wrap to avoid it from drying.
6. How do I store my fondant decorations?
Let the figurines air dry for a couple of hours or days, till it's easy to handle. Fondant when left open, dries out. Once manageable, place in an airtight container. When ready, place it on your cake.
7. How to stick fondant to fondant?
To stick fondant to fondant, just use a little bit of water in between. Take a food-safe brush, and paint either one surface of the fondant with a little bit of water and stick the other on top.
8. How do I colour fondant?
I usually buy a batch of white fondant and colour it to various different colours as per my need using gel colours. To know in more detail on how to colour fondant, read my blog post here.
9. Can I place my fondant figurines in the refridgerator?
It is advisable not to place fondant figurines in the refrigerator. Sugar is the fondant that will get attracted to the moisture in the refrigerator and soften up. In extreme cases, the fondant might even end up melting.
10. How to store a fondant cake?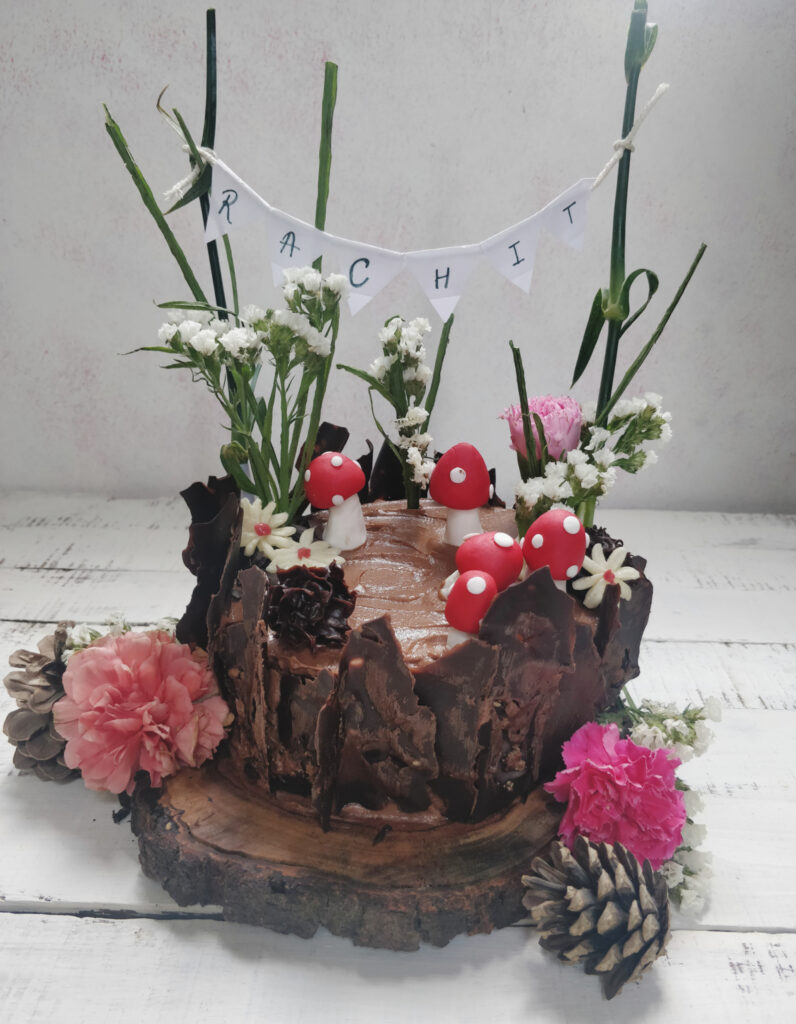 To store a fully covered fondant cake you need to keep a couple of things in mind
a. Avoid using fillings in cakes that require refrigeration if the plan is to cover the entire cake with fondant. Filling you could use with a fondant cake is a sturdy chocolate ganache.
b. If you must, only refrigerate the fondant covered cake for a maximum of 30 minutes. After that, wrap it well in cling film or plastic wrap and store in a box and then store it in the refrigerator.
From personal experience, I make my fondant decorations in advance, the sooner I know the better and I wrap the entire cake in fondant in most cases on the day of the delivery itself. This way I avoid the refrigerator completely. In hot weather, I always work in a well air-conditioned room.
I hope this covered some of your queries on fondant. Comment below and let me know what other queries you may have.
Here are some tutorials related to fondant that you may find interesting:
Father's Day Cake Topper – Easy Step by Step Guide on Creating Your Own
Harry Potter Fondant Decorations: Step by Step Easy Tutorial
Happy Creating,
Aanchal
Latest Posts