One of the most common questions as a baker I get is, what should one use to bake, microwave, OTG or oven. What is best for me?
I have used four types of ovens to date so I'd like to share with you the pros and cons of all of them and help you make the best choice for your requirements. These are:
Convection Microwave
OTG
Built-In Oven for Homes
Commercial Oven
Below is a quick comparison of the four.
| | | | | |
| --- | --- | --- | --- | --- |
| Quick Summary | Convection Microwave | OTG | Built-In or Free Standing Oven | Commercial Ovens Suited for Homes |
| Best For | First-time enthusiasts OR rare users | Occasional bakers for non-commercial use | Passionate cooks & bakers for both home and commercial baking | Home Bakers for commercial use |
| Best to Bake | Small cakes, pizza, mug cakes | Small cakes, pizza, cookies | A big batch of cakes, cupcakes, cookies and savoury items. | A large batch of cakes, cupcakes, cookies and savoury items. |
| Brands I Have Used | LG | Morphy Richards | Faber | Unox |
| Capacity (litres) | 28 litres | 28 litres | 80 litres | 100 litres |
| Capacity (No of 6" cakes at a time) | 1 cake | 1 cake | minimum 4 cakes | minimum 6 cakes |
| Starting Cost | Rs. 12,000/- | RS. 7,000/- | RS. 38,000/- | Rs.50,000/- |
| Servicing | Easily Available | Easily Available | Easily Available | Easily Available |
| Buy Here | | | | |
Let's now deep dive into each one a little bit more.
LG Convection Microwave Oven
Can be used for baking along with grilling, reheating, defrosting and cooking hence why it is costlier than an OTG of the same capacity.
For baking purposes, this is only good for mug cakes, pizzas and other items which do not require too long in the oven. For some dishes, a combination of convection and then grilling can be used to achieve a golden brown top to the dish, for instance, browning cheese on a pizza or baking Dal Bhatti.
If you hardly bake, this is for you. If you are a more frequent baker read on and use a microwave mostly for reheating purposes only.
Morphy Richards OTG
OTG is Oven, Toaster and Griller. It has slightly different functions compared to a microwave. OTG has two heating coils, one at the bottom and one on the top. Both can be turned on or either one as per choice.
As per my experience, baking in OTG can be a bit tricky since I have not been able to get consistent results, but that may be because my OTG was extremely small, so conventional baking times mentioned in recipes did not work.
If you bake regularly at home for your family or entertain guests regularly, I would suggest going for an OTG with a larger capacity like 40 litres rather than 28 litres.
Faber's Built-In Oven
This is the oven that I have used for nearly 15 years and have the most experience with. Built-In Ovens are elegant, fancy but as the name suggests need to be built into your kitchen cabinet. These can not be placed over a countertop.
A built-in oven has a large capacity and can bake up to three trays of cookies or four 6" inch cakes at a time approximately. These are great for home baking as well as for commercial purposes.
For most of my home bakery business, this oven was used. In 15 years the only issue I have ever had is the light bulb fusing out and nothing else! My oven was electric, so in case of a power cut, the oven would shut off. So you can instead go for a gas oven.
There the only drawback of buying a built-in oven is that you need to get a carpenter or your interior designer to help you fix the oven in the kitchen. This might be difficult in a rented home or a home that has a kitchen already designed and fixed.
The other option is to purchase a stand-alone oven which comes with a cooking range (hob) attached on its top. It's like the size of a washing machine that you can place in the kitchen. This will require no carpentry.
Unox's Commerical Oven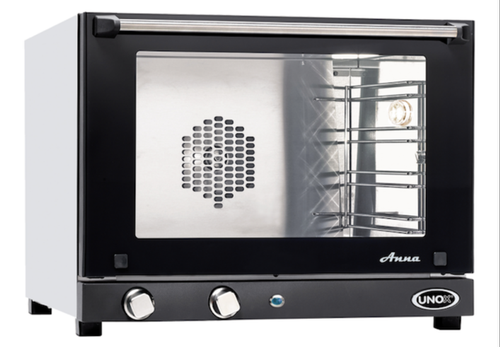 After I recently got married and shifted homes, the only thing I could not take with me was my Faber built-in oven. As per the kitchen in my new home, I knew I needed a countertop oven since this kitchen did not have space for a built-in one. After researching multiple brands, Unox seemed like the best option. They have big ovens which can be placed on the countertop, that look elegant and can help me continue running my home business.
In terms of capacity, this oven is BIG. It has four trays and a pretty powerful fan at the back which helps bake everything evenly.
I have compared various UNOX ovens and found what suited my needs and budget best. To know about the same, read here.
For now, my advice to home bakers and soon to be ones too, buy a built-in, stand-alone or commercial countertop oven. These bake well and in good volume too. To the rest of my readers, you can decide to buy yourself a convection microwave or an OTG as per your needs.
Please note, all these opinions are from my personal experience only. Also, I live in Delhi, India and hence why the servicing for all the four brands discussed above is easily available. Before buying anything, do check if the company is in service to your city as well.
Happy Shopping! 🙂
Aanchal