In my earlier post, we discussed the various kinds of ovens I have used and my experience using them all as well as the difference between an OTG, Microwave and Oven. This blog post solely focuses on reviewing different UNOX ovens and their differences and usability for a home bakery.
I want to share with you all the countertop ovens I researched and the one I eventually bought. You may ask why countertop and not built-in Well, that is because, in my new kitchen, we do not have that kind of space to fit in a built-in oven, hence countertop. We also did not go for a stand-alone oven, also, known as cooking ranges because they come with a stovetop with three to four burners which we did not require.
Now moving on to countertop ovens, the best brand as per my research is UNOX.
Unox is an Italian leader company in high performance and professional Ovens. After reading multiple reviews and seeing their availability in terms of servicing in my city (Delhi, India), I found this to be the most suited brand for my needs.
Unox has a wide collection of ovens to offer. I will be comparing the four that stood out for me as per my requirements.
| | | | | |
| --- | --- | --- | --- | --- |
| Quick Summary | XF023 | XFT113 | XFT133 | XEFT-04HS-EMRV |
| Commercial Name | ANNA | STEFANIA MANUAL HUMIDITY | ARIANNA MANUAL HUMIDITY | ARIANNA.MATIC |
| Number of Trays | 4 Trays | 3 Trays | 4 Trays | 4 Trays |
| Power Supply | Electric | Electric | Electric | Electric |
| Dimensions (WxDxH) cm | 60×58.7×47.2 | 60×65.5×42.9 | 60×65.5×50.9 | 60×66.9×50.2 |
| Weight | 22 kg | 25 kg | 31 kg | 39 kg |
| Type of Control | Manual | Manual | Manual | Digital |
| Fan Direction | Uni-Directional | Uni-Directional | Uni-Directional | Bi-Directional |
| Steamer | No | Yes | Yes | Yes |
Now that I have given you a quick summary of the various ovens let me tell you which one I bought and why not the others. Please note all the four ovens are the ones that I believe are good for homes as per size and functionality.
So the oven I purchased is XF023! This is Unox' base model. Since the majority of my baking is cakes and cookies, this seemed like the best fit.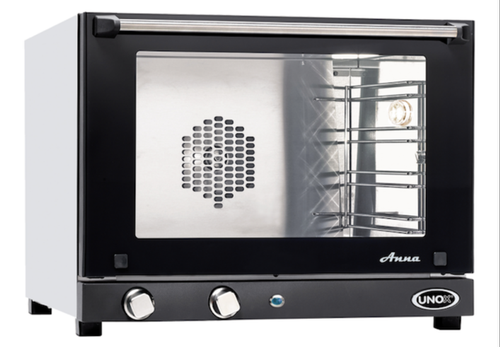 The others all had a humidity feature, which can add steam which I hardly ever require. If you bake loaves of bread regularly this may be a feature you want in your oven.
I was keen on getting an oven that had a bi-directional fan, but the oven offering that (the Ariana Matic) was out of budget and hence declined. This particular oven has a digital panel through which you can program each tray for a separate timer, save different recipes and different fan speeds. Pretty fancy!
The XFT113 and XFT133 are very similar in terms of specs as of XF023. The main difference is either in the number of trays or the steamer availability.
There are multiple sellers across India selling these ovens. Please talk to a couple before locking down the price. Do ask if they can give you a demo of the same as well. Also, keep in mind to ask about servicing the oven post-purchase in your city and the warranty period.
I hope this post helped you. Do let me know if you need more details and I can share the same with you further.
A month or so after using this oven, I will give a detailed review of XF023 and let you know what I think about it. So far, I have baked cookies, pizza and brownies in this oven and they have come out great!
Stay Safe and Happy Baking,
Aanchal