As some of you may already know, I recently got married. Being an extremely unique wedding since it was during the pandemic, I thought it would be a good idea to share my experience with you all. I hope if anyone of you is in a similar situation, then this post helps you decide on how to go about your wedding as well.
So here goes…
At the beginning of this year, the plan was to get married in Udaipur. Udaipur is a city in the state of Rajasthan in India and is also known as the "City of Lakes". It is famously known for all the lakes across the city and the beautiful wedding venues for destination weddings.
Beginning of this year we had made a small trip to Udaipur and selected a venue. I was going to get my very own Destination Wedding! We had selected the venue, the dress, the décor and then COVID happened. Our destination wedding plans were put on hold. I was pretty upset. I had planned so much already and for all of it to be put on hold just seemed unfair.
After many discussions between both the families and within, both sides of the family decided that there was no way to know when we could go back to Udaipur for the wedding, and it would be best to do it locally with a small gathering.
With new developments daily regarding the pandemic, we decided that it would be the safest and best option to get married at my home in Noida with a small gathering. We Indians are known for their big fat weddings and now doing it home was just weird and seemed impossible.
My dad and my fiancé went to the authorities for permission to host the wedding at home and to allow the groom's family to enter the city and two days before the wedding, we finally got written permission. I finally believed that this was happening.
I had always wanted to bake my own wedding cake and even though we got permission very last minute, I decided to still go ahead. I decided to bake a three-layer carrot cake with cream cheese frosting, decked it up with some gold accents, a few gum paste roses and leaves and lastly a beautiful cake topper with our initials.
The day before the wedding, with just ten people, we started the day with Haldi, Mehndi and then a small Sangeet. We danced into the wee hours of the night and had great fun.
Next morning, my mom and aunts woke up early to cook lunch for all the guests, the florists arrived and our home and finally with the marigold around the house, it felt like my wedding day! With sanitizers and masks, my family welcomed all the guests, and with our closest family members and a total gathering of 22 people, Madhav and I finally got married at my home.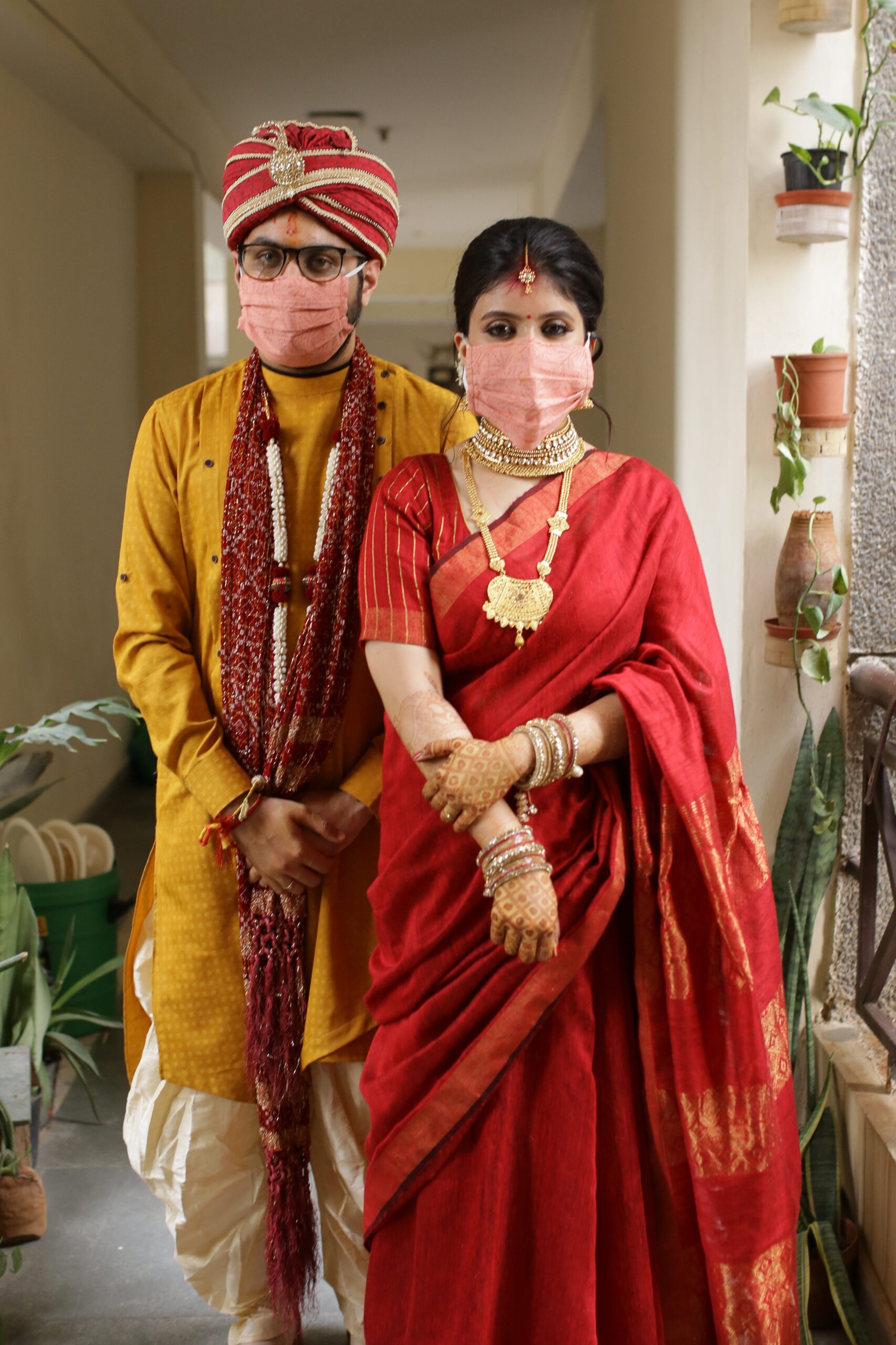 Udaipur or no Udaipur, I was always keen on having an intimate wedding with only my close family and friends. This wedding of ours could not have been more so! We had our favourite people with us and the rest over Zoom.
As a side note but an important one, I would also like to highlight that the wedding was plastic-free. With no maids to help with the cleanup, all cutlery used was eco-friendly, made up off paper or leaves. All the waste from the wedding day has been composted and is being used in our garden.
I now firmly believe, in what Paulo Coelho said: "When you want something, all the universe conspires in helping you to achieve it."
I hope this story of mine inspires anyone whose wedding plans were disrupted during COVID.
Love & laughter, always!
Aanchal 🙂