There are many ways to decorate cakes these days, but to decorate cakes with chocolate and candy is an easy, quick and effective way to do so. This method does not require any fancy cake tools rather just some chocolate bars and candy of your choice.
These cakes are a great example of how you can decorate cakes with chocolate and no special cake tools.
To know more about simple cake decoration ideas, you can read the following posts as well: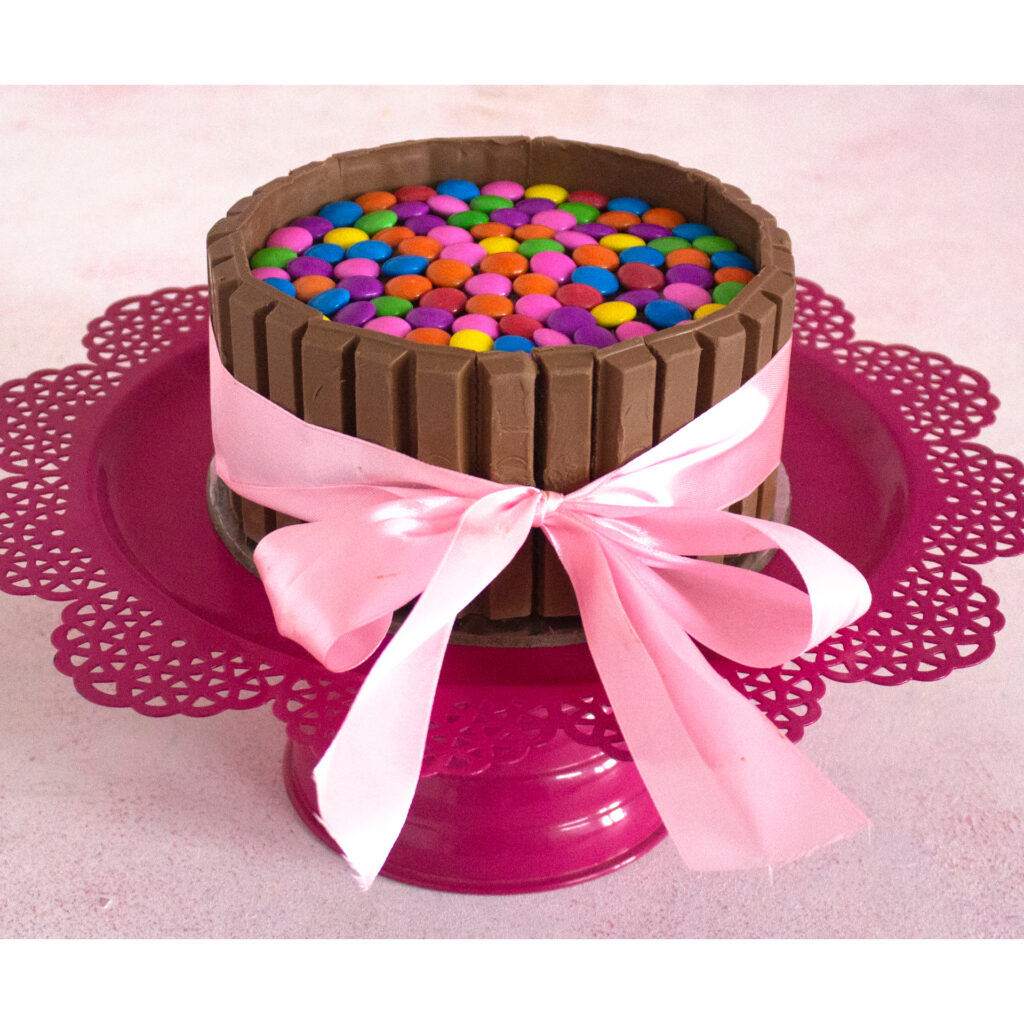 The things you need for this cake are:
2 cakes (I used two 6″ inch cakes)
Frosting
KitKat or chocolate bars of your choice
Candy of your choice to fill the cake
Cake Board
Ribbon
Start by baking two cakes or one cake and split it in half horizontally. Take the cakes out of the pan after 10-15 minutes and then let them cool completely. In the meantime, make your frosting for the cake. Take a cake board, place some frosting on the board and then add your first layer of the cake. Spread a nice and even layer of frosting on the top of the first layer and then place the second layer of cake. Cover the edges of the cake with the frosting as well.
Take your KitKat or any other chocolate bar of your choice and start sticking them to the fondant around the cake. Make sure the frosting isn't too hard, else the chocolate bars will not stick and keep falling off. Once you have covered the cake from the sides, using a bow tie it all around the cake. This way, the chocolate bars will remain secure, it also adds a nice pop of colour. Lastly fill the cake with MnMs, gems, sprinkles etc to cover the top of the cake!
In this example, I followed the same steps for the sides of the cake, but filled the top with jelly cubes to imitate ice cubes and topped it also with miniature alcohol bottles for a whisky and chocolate lover! 🙂
I hope this helped you out and inspired you to decorate a cake with just chocolate and candy! Don't forget to tag me on Instagram using @ovenbytes or #ovenbytes to see all your designs.
Happy Baking,
Aanchal
Latest Posts